Friday 28th January 2022
Dear Parents and Carers,
I hope you and your families are all well. We have started the new year by reviewing our Behaviour Policy. This has involved talking to staff, children and parents and observing systems in school. This includes how we praise and reward children for doing the right things. We always start every lesson/playtime believing all children will do the right thing and staff are looking 'to catch' children being good. I am glad to say this is nearly always the case! Please be advised a similar system will be in place for play and lunchtimes. Here are some of the ways we reward children at Whitley Abbey.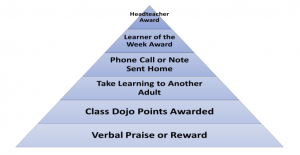 In the interests of transparency, if children need support to make the right choices, which is very rare, we have a sequence of consequences that are applied by staff. You will appreciate that learning is our primary focus and a consistent approach will maximise learning and progress for everyone. We are very aware that COVID has had an impact on our children and we are determined to provide the very best education we can.
Please bear in mind that in extreme circumstances some of these steps maybe missed out;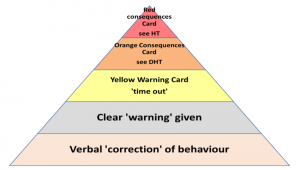 More details about how each step differs can be found in the new Behaviour Policy, which will be published shortly on the school website. Specific Unacceptable Behaviour The following unacceptable behaviours will result in a Red Consequences Card.
• Racist or homophobic comments/actions
• Threatening/aggressive behaviour which poses a danger to the safety of the child/other children/adults
• Significant physical harm to themselves or to other children
• Physical violence/aggression towards adults
• Swearing directly at adults
• Bringing anything that could be used as a weapon into school
In these instances, the parent/carer of the child will be informed of the incident. It will be at the discretion of the Headteacher/Deputy Headteacher as to what further action will be taken. The personal needs and circumstances of the individual child will be taken into consideration when
deciding on an appropriate consequence.
Kind Regards
Mr Robbie Walker
Head Teacher