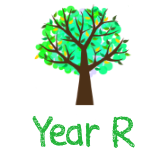 Reception
Our teachers are Mrs Ward and Mrs Hunter 
Our Teacher partner is Mrs Stokes
We are delighted to welcome you and your child to our Reception classes here at Whitley Abbey Primary School. We aim to provide a caring and safe environment, which will help your child settle happily into school life. We are looking forward to working in partnership with you to support your child's learning.
In Reception we have two classes: Reception Willow and Reception Chestnut. Throughout the year we plan a variety of themes to engage the children's learning.  
Autumn Term:
Getting To Know
Autumn and Winter
Spring Term:
Journeys
Taking Care
Summer Term:
Minibeasts
Time Detectives
Reception will be having PE on Wednesday morning so please ensure they come to school in their PE kit, wearing trainers and have a spare pair of shoes in a bag to change into if they get muddy.
Welcome Letter
Here is a useful link with lots of fun activities to support your child with their speech development at home.