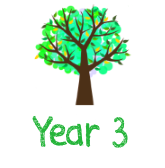 Oak and Elm
Our teachers are Mrs Large and Mrs Dhami
Our Teacher partners are Miss Clarke and Mrs Blatch
Welcome to Year 3!
Year 3 have already produced some fantastic work to start the term based on the book, Here We Are. In some strange and unfamiliar times we spent a lot of time reflecting on what's important to us and how special our Earth is.
During this term, the children are busy learning and researching about the similarities and differences of our lives compared to those who lived during The Stone Age.
We will be creating our own Stone Age houses, investigating different types of stone still seen today and finding out what kind of foods they ate.
We will also be igniting imaginations by using The Dragon Machine and The Boy who Grew Dragons to create some wonderful pieces of writing and discussions in guided reading.
Next term, the topic will be Climate Zones and Weather.
We will investigate weather patterns around the world and learn to describe aspects of physical geography.
Curriculum Overview