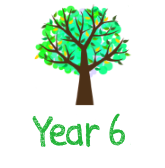 Elder and Hawthorn
Our teachers are Mrs Spencer and Mrs Ofori
Our Teacher partners are Mrs Haymes and Miss Phillips
This is an exciting year for all the children as they complete their final year at primary school. We have two classes in Year 6 this year – Hawthorn with their teacher, Miss Sharma and teaching assistant, Mrs Kapoor and Elder with their teacher, Miss Noble teaching assistant, Mrs Bivens.

Being in the final year of school, the children will be encouraged to learn and organise themselves more independently. We always strive to achieve a positive and friendly classroom environment where all children feel motivated to work to the best of their.  
PE lessons will be held on a Wednesday and children should come to school wearing their PE kit which they will wear all day. All PE lessons will be held outside so please ensure children are wearing suitable clothing for the weather conditions. Please remember to bring a filled water bottle. 
Children need to have a pair of indoor and outdoor shoes in school so please ensure these are sent and remain in school all week.
Children will be set homework online using Google Classroom to help them continue their learning at home and ensure all children are confident to access online learning.  Homework initially will be reading to help children become fully engaged in reading again. Children should read at home 3 times per week and reading diaries will be checked to ensure an adult has signed.
Children in Key Stage 2 are encouraged to bring in a healthy snack for break time (fruit and vegetables only please). Your child will also need to bring in their own water bottle. This water bottle will need to be taken home daily to be cleaned.
This year we will cover some exciting topics including the Frozen Kingdom, Hola Mexico and World War II. I am very excited for the year to come and know we will have a fantastic year.
Curriculum Overview