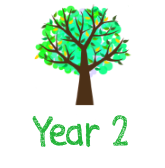 Aspen and Sycamore
Our teachers are Mrs Moynihan and Mrs Prestidge
Our Teacher partners are Mrs Convery, Miss Davies, Mrs Bostock and Mrs Goddard
PE day is a Wednesday, children to come to school already in kit.
All children will go onto accelerated Reader and will not have a set book change day, they will change their books when they have finished reading them and have quizzed.
All children need a water bottle in school (named) and are welcome to bring a piece of fruit from home for snack time.
Children need an extra pair of shoes in school so they can change their shoes if they have been on the muddy field. 
Children will be doing a lot more outdoor learning in all weathers, so would benefit from having waterproofs and wellies/suitable outdoor clothing in school.
Topics = Street Detectives, Land Ahoy and Beach Combers.  We will be doing lots of walks around the local area for street detectives and will hopefully be going to the beach for beach combers in July. 
Any arrivals after 9.05 will have to go to the office. 
Curriculum Ovierview